He has one big mountain to climb in the round of eight. Best of flipping to him.
While I'm rooting for pinbwzrd to take it all, the matchup I'd most want to watch is Daniele vs. Ray.
stay off the internet and VOD it! that's what i'll do

Insane final. Congrats to all and Johannes in particular. Note that he had to go through 4 world champs, including the last three people to win IFPA, en route: Jorian, Jim, Raymond and Daniele.
Statistic on BSD there: the median game during IFPA was around 100M, and Daniele was the only player to crack 1B before the title match, that being his 2B+ game in the Epstein Cup. So the two best games on it came head to head in the deciding game 9. And the topper: Johannes ball 3.
Know that "ball 3, down by a billion … No Fear" quote … Johannes just TRIPLED it on BSD, where it's harder to get a billion than on No Fear.
There are some astonishingly talented players in Europe, and they don't get half as much time in the spotlight due to the fact most of the really big tournaments are in the US. Good that they got some time to really shine this weekend.
A truly well deserved win from an amazing new talent that I think comfortably stands head and shoulders alongside the very best in the US.
Half a minute of pinball…
6:32:42 starts Coffin MB. Treble stack.
6:32:47 Coffin JP.
6:32:57 DMD sequence for start Coffin MB. ???
6:33:00 drains to three BIP.
6:33:11 drains to two BIP.
6:33:12 Coffin JP.
6:33:14 drains to one BIP.
6:33:18 goes to EOB with one BIP. Flippers die. ???
6:33:26 opens shooter lane diverter. End-of-MB to feed Mist ball.
6:33:26 player 2 SOB.
6:33:28 close diverter.
6:33:29 auto-plunge player 2 ball. ???
https://www.twitch.tv/videos/436578432?t=06h32m23s
Best guess for the auto-plunge. The end-of-MB procedure to feed the Mist ball clashes with the player 2 start-of-ball procedure.
The rest ???
Just incredible. After his awful 1st ball, his second ball looked like an effort to just end the game and get the hell out of there. Then…the Miracle in Milan happened!
Please tell me the two finalists are going to be at Pinburg.
Johannes said next year for Pinburgh…
A question for Escher, or anyone else that knows. Escher was talking about a strat on stream for Walking Dead. Play Barn, then play CDC, shoot the CDC ramp 5 times, shoot Riot, shoot Barn, shoot CDC ramp for about 500 million. Is there any video evidence of this anywhere? Have I got the sequence right? I had a number of goes at it today and maxed out at around 120 million? That was including in the inlane multiplier . What am I missing?
@Steveo should be releasing a full tutorial explanation of this mode on his twitch channel tomorrow, It's pretty fascinating, so I would definitely check it out. I'll post a link when it goes up.
cheers,
Escher's Dad
Excellent, thanks Adam

I'll look forward to it
Make sure when you shoot riot it's to start 2x playfield too.
Can't wait to see this on video too.
I would totally be in on that finals set

For the facts; Søbyskogen is my lastname, but maybe I should jusy ifpa-convert it to the conventional Sobyskogen.
Or just Morten Andre, sounds more slick.
Oh well, Next year, Florida!
Since I like to give credit where it is due and don't know of a better place to do it:
Thanks to all players who were there. I'm sorry for myself that I couldn't bring my best, but still I had an unforgettable weekend of playing the game that I love in the best company I could wish for. Chatting with you people after I was out was just as enjoyable. There were some people I kinda knew beforehand and some people new to me who gave me a sense of belonging that is much appreciated.
Thanks to Double Pinball, you did good to cater for what was a most demanding bunch of players. The IFPA team, top job keeping the tournament running as well as it did. Brian I don't know why you do it but you have my admiration.
Thanks Jim and Dina, and everyone who helped the stream happen. I watched as much as I could starting from the pre-tournaments when I was not yet there and I watched the deciding moments of the final match sitting at the Malpensa airport floor with Mats Runsten. What a shame it would be if that match was not out there for all to see.
Thanks @marble for years of comradery and for everything pinball related really, I can't even imagine the local scene, nor my own hobby, without you.
And Johannes. I have watched a load of video footage of the top players, that's what my pinball hobby is most of the time nowadays, and never have I seen anyone so good. It's like the nerves of Keith Elwin, the flipper finesse of Karl DeAngelo, the shot accuracy of Andrei Massenkoff, the intelligence of Bowen Kerins, all in one player, and then some. I already heard some people jokingly say they want to quit competing after seeing your performance. But really, I have been on my way out for a couple of years (it's not easy!) and now am feeling inspired to practice more and become better if I get the chance. For this inspiration you have my gratitude.
I wish everyone well and maybe we'll meet again.
Don't give in to bad database encodings – embrace Søbyskogen (and Søbyskogen)!
The shot values in CDC build cumulatively throughout the mode, so you can cash it in for huge value, especially if you have 2x PF and an inlane X. And there's an obscure rule on TWD: If you're in a mode, and hit a shot for a mode you already played (the insert is solid), it builds the shot value for the current mode.
If you play Barn first, and then start CDC, hitting the Barn shot increases the CDC values by 500,000(!!!). Since the CDC values are cumulative, this starts to get pretty crazy. (Doesn't have to necessarily be Barn, it can be another mode you've played instead. But Barn is the easiest shot.)
So a sample CDC mode with not a ton of points:
Hit the CDC ramp 5 times. (750k+25keach, = 4M total. 4M will be the value for the next phase. Animation is dudes banging on the door.)
Hit the Barn shot. (4M. Animation is dudes running thru the door.)
Hit the CDC shot once. (4M. Animation is a window exploding. You have to hit CDC twice to finish the mode.)
Hit the CDC shot again to complete (The sum of the above. 4M + 4M + 4M = 12M. Animation is whole building exploding)
Total = 100k pity points + 4M phase one + 8M phase two + 12M final collect = 24.1M.
Now the same CDC mode, if we had already played Barn, using the played-modes-rule, hitting Barn a few times first:
Hit Barn shot 3 times to start. This scores 500k a pop, but more importantly adds 500k to all future CDC shots. (1.5M)
Hit CDC ramp 5 times. (Now 2.25M +25k each because of +1.5M from earlier Barn, = 11.5M. 11.5M value for next phase.)
Hit Barn shot. (11.5M + 1.5M = 13M).
Hit CDC shot. (11.5M + 1.5M = 13M).
Hit CDC shot again to finish. (11.5M + 13M + 13M + 1.5M = 39M).
Total = 100k pity points + 1.5M played-mode-shot + 11.5M phase one + 26M phase two + 39M final collect = 78.1M. A 3.2x increase!
Now add in a Riot 2x playfield, and an inlane multiplier on the final shot, and you can get some stupid value. If you had a modest 2x PF and 2x inlane on that final shot, suddenly that shot turns into 150M+. (Note that when building values, even if you have a 2x playfield, the values only increase by the unmultiplied value. But they will be multiplied when you collect).
@kdeangelo with the right ramp for X inlane Passover to final CDC shot… classy!
Zach said next year IFPA WC is in Florida. Anyone know where and or who is sponsoring?
Pinball Asylum in Fort Myers.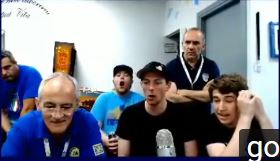 Priceless!